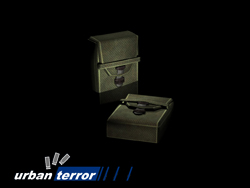 The Bomb Bag is the main object in
Bomb Mode
. It is a highly explosive bomb which the Red team has to plant on one of two bomb spots in order to defeat the Blue team, whilst the Blue team has to stop the Red team from planting the bomb, or if planted they have to defuse it in time.
Ad blocker interference detected!
Wikia is a free-to-use site that makes money from advertising. We have a modified experience for viewers using ad blockers

Wikia is not accessible if you've made further modifications. Remove the custom ad blocker rule(s) and the page will load as expected.