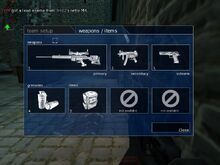 You can choose up to three items, depending on how many weapons you have chosen to equip yourself with, and whether or not you have grenades. The combinations of weapons, items and grenades are:
2 weapons, a sidearm, grenades and 1 item
2 weapons, a sidearm, 2 items
1 weapon, a sidearm, 3 items
1 weapon, a sidearm, grenades, 2 items
The Gear Variable
Edit
To change your gear through the Console (or config file) here is the command and syntax (don't forget the leading / if entering the command in console):
Where
For example, if you wanted the Beretta 92G, ZM LR300, HK MP5K, HE Grenades, and a Laser Sight, you would type
Ad blocker interference detected!
Wikia is a free-to-use site that makes money from advertising. We have a modified experience for viewers using ad blockers

Wikia is not accessible if you've made further modifications. Remove the custom ad blocker rule(s) and the page will load as expected.